Online Booking
Regardless of first visit / return visit, we accept online booking.
If you have LINE, please make a reservation through LINE.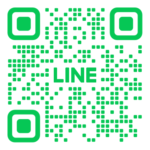 If you do not have LINE, please use the mail form below to make a reservation.
For same-day appointments, it is more convenient to call us.
Please be aware, when using Japanese health insurance, we only accept cash.
We accept credit cards for teeth whitening, cleaning and private treatments.
For first time visitors
If you are a first-time patient, please arrive 10 minutes early with your insurance card so that we can prepare your medical record.
Please be aware that if you are late, your treatment time will be shortened.
If you are visiting our clinic for the first time, please print out this medical questionnaire, fill it out and bring it with you in order to shorten the waiting time in the examination room and to avoid any tightness.
Insurance treatments are paid for in cash only.
For self-pay treatments, credit cards are accepted.
Booking Hours
Mon-Fri
9:00-17:00
(If you want whitening、16:00 is last booking time.)
Please describe your desired date and time (1st hope / 2nd hope etc) and send it from this form.
We will contact you after checking e-mail.